We are reviewing one of the most deceptive Forex and Binary Options brokerages on the internet, 24 Platinum Safe. This brokerage is also referring to itself as Binary Trade Option, although there is no official statement on the site citing that 24 Platinum Safe is also known as Binary Trade Option. So this might just be a blatant copy pasting mistake which the admin of this site never discovered when they were copying materials from the Binary Trade Option website. Whatever the case, we are fully convinced that 24 Platinum Safe is a scam, and here's what you should know about their operation to avoid losing money in the hands of these crooks.
24 Platinum Safe Review
First of all, if you are looking for a good broker who can let you trade Forex without cheating, go to this list. If you have done that, rest assured that you will have signed up with the best FX brokers on the internet right now. The site claims that they are providing an intuitive trading platform to their clients, plus they are training and educating them as well. They also claim associations with BOTradefinancials. BO Tradefinancials is a Cysec licensed entity. However, the most interesting thing is that BO Tradefinancials does not have 24 Platinum Safe as their approved domains.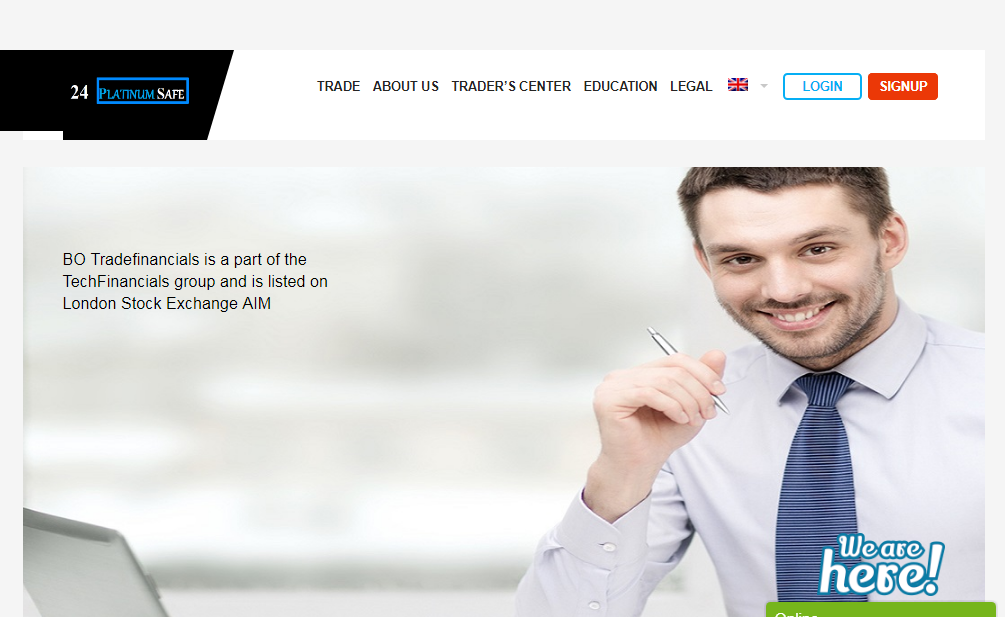 If you visit the Cysec website for details, you will discover that BO Trading Financials does not recognize 24Platinum Safe, and yet the scam website keeps announcing that their operations are overseen by BO Trading Financials. We definitely know that something is wrong. Since the scam brokerage isn't licensed, they have decided to find a way of circumventing the issue by listing a licensed company which is not associated with them and claiming that they are affiliated. This is a crime, and we should all take these red flags very seriously if we don't want to end up losing our funds.
They claim to offer a wide range of Forex, Cryptocurrencies, stocks, commodities and indices. They also claim that they are offering tight spreads. However, there is no proof that this site is offering tight spreads because they could have published a list of live spreads on their site. This is a widget that all professional brokers have. So they are able to display live spreads in the market for main currency pairs. But this brokerage does not have such kind of thing, which makes us believe that they are lying about the issue of providing tight spreads.
They also claim to provide zero margins and a default leverage of 1:50. Leverage is something you should exercise caution when utilizing. You cannot use high leverage and expect to make profits in the long run without wiping out a significant chunk of your trading balance at some point. Again, the issue of offering zero margins is something we cannot trust because if 24 Platinum Safe is lying about their association with certain entities that don't recognize them, then it's quite easy for them to lie about this issue too. Nothing that comes from this website can be trusted at all.
Furthermore, they are making a terrible mistake by claiming that they have been regulated since 2013. This is not true, and even if you read the fine print at the bottom of the site, you will not see any reference number pointing to their licensing document. So this is a blatant lie.
It is only BO Trade Financials that is licensed and not the entity that is providing Forex and Binary options trading.
A risky brokerage for you
24 Platinum Safe can't be trusted because they are not licensed. One of the conditions that come with licensing is that a broker must be able to keep funds of their clients in a segregated account, which is separate from the company's own accounts. They should also be able to insure all traders who join their platform so that in case the company becomes bankrupt, all clients can recover their money with no fuse.
But since 24 Platinum Safe isn't one of those licensed brokers, you can rest assured that they do not meet any of the conditions set by the financial regulators in the jurisdiction where they operate from.
Binary Options – quite controversial
In the US, the issue of trading binary options is considered gambling, and some states have even banned it. In the EU countries, it is required by law to have a disclaimer that talks of the dangers of trading binary options. So when clients proceed, they will know what they are getting into in advance before things can go haywire.
For this site, there is no warning anywhere, which makes it illegal. They are simply offering a highly controversial product without adding a warning or a disclaimer with regards to this financial instrument. This shows that 24 Platinum Safe isn't concerned with the experience of their clients. You will ultimately lose money on this platform with no chance of recovering anything.
Fake customer testimonials
There is no feedback about this broker anywhere on the internet. After searching for some time, we discovered that this broker didn't have any clients who could give feedback on trading forums.
Now, the situation is quite different when you visit the broker's site since we can find at least 3 testimonials from people who claim that the services of this broker are great. This is quite an interesting thing because these testimonials are clearly fake. We cannot verify these alleged users, and their statements also look as if they were edited by the admin of this site.
Certainly 24 Platinum Safe isn't a reliable and safe broker to use. So how do you expect that people will review them positively?
Our best advice for you
We have dealt with many scams here, and we realize that most of them are easy to detect since they all display same characteristics. The best thing you can do is to trade with these brokers. Forget a scam like 24 Platinum Safe since it is unregulated and chances of losing funds are very high.
Leave a comment