In operation for more than 15 years, Real Trade continues to present a successful and promising business to the trading community – but are they as experienced as they seem? Our team researched into the status of Real Trade and found much of their services outdated and no customer support team present to assist with a potential onboarding process. Whilst banking service speed, bonus programs and a flexible demo account enticed us, read on to discover why we won't be recommending Real Trade at this time.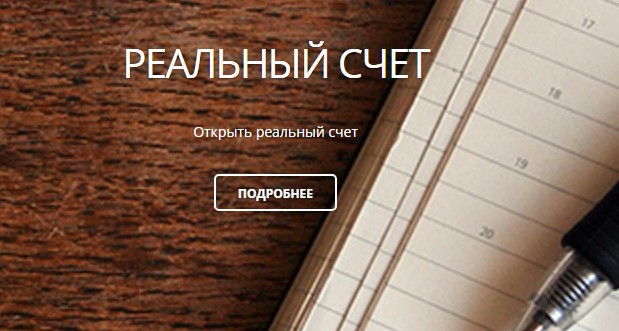 Licensing & Regulation

The Real Trade Group owns and operates the Real Trade brand, and launched the broker in 2003. Their registered address is a P.O Box numbered office on the British Virgin Islands, at Drake Chambers, Road Town, in Tortola. However, they do have active offices in major cities of Latvia, Lithuania, and Estonia.
Real Trade claim to be regulated by the British Virgin Islands Financial Services Commission. The BVI Financial Services Commission (FSC) is the single financial services regulator for the British Virgin Islands. It is the agency responsible for authorising and licensing companies or persons to conduct financial services business, monitoring regulated financial services activity in order to safeguard the public against any illegal and/or unauthorised financial services business operating in or from within the country. However, we could find no record of Real Trade carrying a BVI Commission licence.
Irrespective of this, brokers operating as an offshore company usually choose to do so in order to provide flexibility to their US based clientele. Which is why Real Trade is capable of accepting traders from this region and most other countries around the world.
Accounts, Trading Platform & Features

Real Trade operates a single downloadable platform that has been mastered on MetaTrader 4. RealTrader is a fully customisable platform, with a terminal that features over 30 languages, built-in indicators, custom indicator building facilities, Expert Advisors (EAs), unlimited charts and hundreds of charting tools, instant execution, real-time quotes, and a 'wide range' of financial instruments.
The platform itself is free of charge to download and login to. However, VPS can also be setup on subscription, charged at $20 per month. This is ideal for large volume traders who plan on holding their positions over long periods of time. There is no online version of this platform, but mobile apps are available for iOS and Android devices.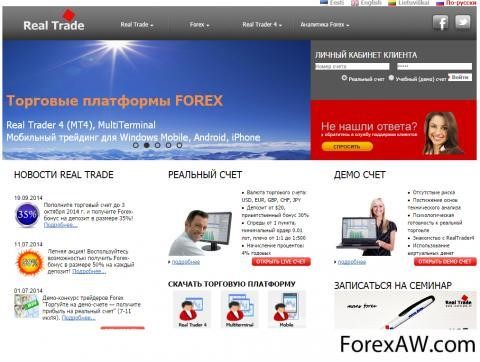 Account Options

Accounts are maintained simply as Demo or Live, and both are designed to function solely with the RealTrader platform. Considering the lack of educational materials found on the Real Trade site, we recommend taking advantage of the demo account if considering opening a live trading account with this broker. Real Trade did manage to demonstrate their understanding for the importance of trial and practical experience with their virtual account, which allows for traders to setup their opening balance according to real-life scenario, and is defaulted to a reasonable leverage of 1:100.
All accounts must be maintained in USD. A live account can be accessed with a deposit of $20 or more, but must be validated with proof of ID and addressed. This general account will allow for trade in micro, mini or standard lots to suit novice and advancing traders. Leverage is defaulted to 1:100, but a maximum of 1:500 can be requested by professional traders once they've proved their experience and knowledge of the volatile markets.
Fees & Commissions
All spread quotes are inclusive of commission and fixed in price. Considering the sample spreads we saw, we were pleasantly surprised at the tightness demonstrated. The EUR/USD pair was shown at 1 pip.
Aside from banking fees and with the exception of flexible SWAP rates, no further charges or commission rates are applicable.
Promotions
Real Trade has intended to draw appeal through the use of welcome promotions and bonus codes. However, please note that the turnover requirements for these contracts are not clearly stated.
100% Deposit Bonus – Clients can receive up to 100% Deposit Bonus when funding a new OR pre-existing trading account. Minimum / maximum thresholds do not apply, however only accounts with 1:100 leverage setup will qualify. Accounts with ratios above this amount will see their bonus reduced to 10%. This is non-withdrawable.
30% Welcome Bonus – New account holders can receive a 30% Welcome Bonus when first funding their account using this code. The bonus cannot be withdrawn and will expire upon first withdrawal.
Rebate (Cashback) Program – Designed for returning clients of Real Trade, the Rebate Program provides cash back on a certain amount of the spread traded. The larger the trading volume, the more rebate received – paid out upon closure of the order. Volumes of 0.01 – 0.10 lots will receive 0.25 pips in cashback, through to volumes of 20.00 – 100.00 lots at 2.0 pips cashback. Maximum leverage requirement is 1:100. Annual interest rate of 4% on the free margin is cannot be applied to any trading account that is enrolled in the program.
Another promotion advertised by Real Trade is the 100% Trading Risk Insurance offered at a rate of 10% of initial deposit. In order to activate this feature, a client would have to complete a Trading Risk Insurance form after funding their account. The insurance is then activated upon automatic removal of this 10% premium from a trader's account, and will remain active for one year. However, the fine print dictates that this will become invalid upon first withdrawal of funds from the account.
Banking Options

To open an account a trader need only drop $20 into their account to access the live markets. All accounts and transfers must be made in USD.
Deposits

Deposits can be made by bank wire transfer, WebMoney, PayPal, Skrill or Perfect Money only. Most will prefer the use of bank-to-bank transfers for added security, but be warned as a fee of $20 – $40 accompanies international transactions. Perfect Money also comes with a service fee of 0.5%.
Withdrawals

Withdrawal requests can be made through a trader's account wallet, wherein they can select from PayPal, WebMoney or Bank Transfer to complete their transaction. Manual processing will be required to approve the request, taking place on the next available working day. After this point, a waiting period of 1 – 2 working days is to be expected – relatively quick when compared to other forex broker services.
Fees will also apply for the movement of money out of a Real Trader account. Bank transfers require a standard $20 to $40 as with deposit. PayPal and WebMoney also call for fees of 0.5%-0.8%.
Anyone who has applied for a bonus contract will need to enquire as to the status of their account for withdrawal prior to requesting money out.
Education Resources & Support

For a broker who offers an intelligent terminal framework, it seems bizarre that they provide no educational support to prepare a novice for the live markets. Under their page entitled "Forex Analytics", a basic glossary of terms is stored, along with a segment for "Forex Prognoses". This blog-style page – designed to provide market insight on trending FX pairs – hasn't been updated since late 2017. Aside from their demo account, there is nothing to guide traders on their platform or provide direction for actions made once they're there.
In addition, we felt there was very little support from a customer service perspective too. There is a clear lack of general information to be found on the Real Trade website, and the only Online Support facility is an email questionnaire, designed to trigger a response from the team to contact a customer regarding their query, Mon – Fri, 9am – 6pm GMT. We tested this and were relieved to find an email response from Client Support within the hour. However, for a fast- paced conversation this isn't an ideal solution.
Why Trade at Real Trade?

Considering that Real Trade has been in operation for 15 years, it is a genuine mystery to us how they manage to attract new clients with absent support services and a website that lacks any basic information. From the minute we began our research every turn we took was a dead end with this broker, leading us to believe that Real Trade is not operating to the best of their ability.
Foremost, the lack of direct online support, toll-free customer service line or call-back service, is incredibly frustrating – especially when we have so many unanswered questions from the poorly managed Real Trade website. Even if we were to take steps towards opening an account without assistance, the fees charged by transferring the attractive account minimum deposit requirement (by the more secure bank transfer option) are counterintuitive.
Overall, we felt unfairly teased and disappointed by Real Trade's self-promotion. A broker to avoid until they get their act together – 1 out of 5 stars, if that.
Leave a comment