Markets.com is one of the world's most popular Forex and CFD brokers. This fast-growing broker was founded and owned by a company called Arbat Capital Ltd in 2006 and was regulated by CySEC (Cyprus), shortly afterwards. In 2009, Arbat Capital Ltd was renamed SafeCap Investments Ltd. SafeCap Ltd own and operate Markets.com to this day. As a Bloomberg advertised company, Markets.com clearly has no issue with raising its profile and they even have the legendary Bill Hubbard as its public facing "Chief Economist". The company prides itself on offering its traders a safe, secure, licensed and regulated trading environment. They have also made a commitment to providing their customers with the most advanced Forex trading platforms and support services; key elements to their continued success as a broker.

Regulatory Information
Markets.com are regulated by the Cyprus Securities and Exchanges Commission (CySEC) under license no. 092/08 and by the Financial Services Board ("FSB") in South Africa as a Financial Services Provider under license no. 43906. They are also regulated under the European Union Financial Services Law, better recognised as the "Markets in Financial Instruments Directive" (MiFID). As such, they are able to offer all EU based brokers a first class Forex and CFD trading experience. They comply with all industry standards and subscribe to a strict code of conduct and ethics set out by their regulators.
UPDATE: Belgium's market regulator, the Financial Services and Markets Authority (FSMA), has announced that they will prohibit retail online trading of forex and CFDs from 18th August 2016, therefore Markets.com will NOT be accepting traders from this region. Traders from Canada, Australia, France and the USA are also NOT catered for here.
Trading Platforms and Features
There are four different trading platforms available at Markets.com. These are Sirix WebTrader, MetaTrader 4 (MT4), Market Mobile Trader and Market MultiTerminal. Please see below for a brief overview of each.
MetaTrader 4 (MT4) – Markets.com have given their MetaTrader 4 platform a few overhauls over the years. It is now one of the most advanced, yet simple-to-use platforms available online. MetaTrader 4 is user friendly for novice traders, yet has advanced features, analytic tools and customisability suited to more experienced traders. It's easy to see why the Markets.com MT4 Platform sets the industry standard for Forex trading.
MetaTrader 4 MultiTerminal – This is Markets.com solution for operating multiple trading accounts simultaneously. It is primarily designed for money managers but it is a highly effective solution for those that wish to trade across a number of MT4 accounts at the same time. You'll benefit from rapid news updates, updates on trading events, receive system alerts and internal emails, all from a single interface. The platform also offers several execution models and predefined values that are perfect for those that require predefined volumes, percentage allocations, equity ratios and/or total volumes per order. You can set pre-defined order allocations for performing trade operations or manage open positions and pending orders with this truly sensational platform.
Sirix WebTrader – The Sirex WebTrader platform is widely available as a browser based platform, therefore it works on Mac, PC and even works on Linux based machines. Due to it being coded in HTML 5.0, this platform will also work in a variety of IOS and Android based mobile devices. The Platform is incredibly simple to use and has a number of features including customizable "Trading Cubes", a very simple Social Trading function where you can see the progress of other traders and of course a Live Analysis feature and straightforward analytical Charts. We believe that new traders will get the most from this platform. Experienced traders will enjoy this platform as a "change from the norm". It is not as advanced as the MT4 platform, but is an easy-to-use alternative for those seeking some diversity, and is fast becoming a popular platform.
Market Mobile Trader – Traders that prefer to use mobile devices are provided with the straightforward Market Mobile Trader platform. This web application is developed using HTML 5.0 therefore it will work on all mobile devices running Blackberry (v.6 & newer), IOS or Android based operating software. Mobile traders can enjoy full and unrestricted access to the Forex markets, 24 hours a day. You will be provided with a limited list technical analysis tools and a simple interface, but enough is available to observe your previous orders and make simple trades. We recommend you stick to the desktop platforms for making trades and use Market Mobile Trader to view progress whilst on-the-move.

Support Services
Markets.com has just one office in Cyprus and another in Gibraltar. This may sound like a small operation compared to most Forex brokers, but it's most definitely not. The lack of multiple international offices does not reflect on the actual size of this company, their ability as a broker or the response times of their support services. The Markets.com support team is well trained, dependable and available in over 34 languages via local rate numbers. They also offer a highly capable Livechat support service that is available 24/5 (excludes weekends), and of course email support. We've tested their support teams with issues ranging from the most mundane to the most technical, and they performed admirably. Traders of all levels will be well looked after at Markets.com. Don't hesitate to contact the support teams for yourself.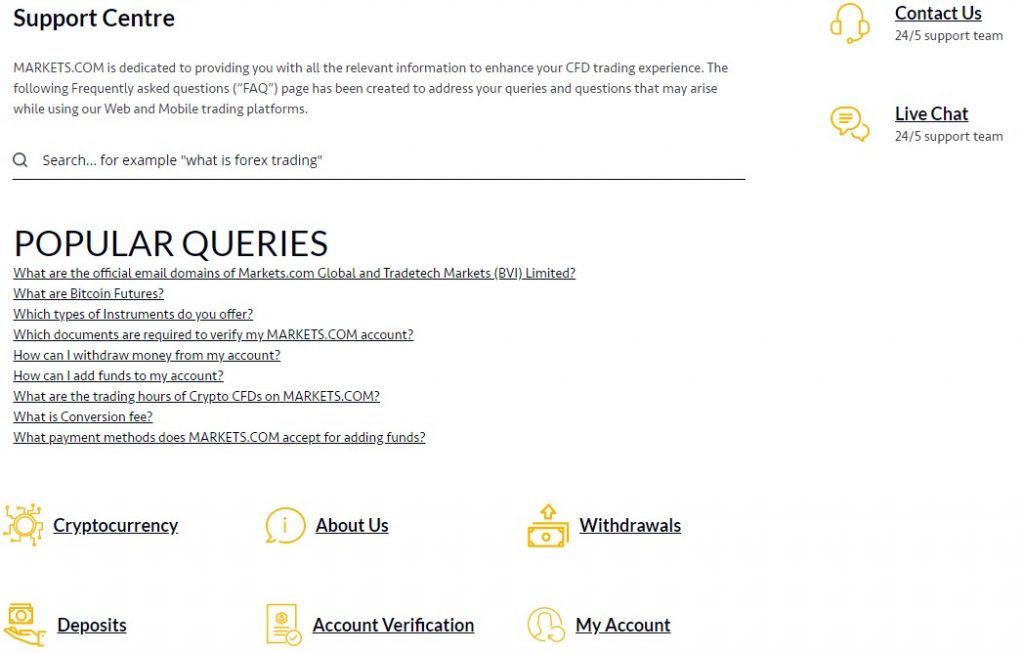 Banking Options
There are a number of cost effective ways to fund your Markets.com account. The most commonly used deposit methods are Debit and Credit Cards, Bank Wire, WebMoney, Skrill and Neteller. These are widely accepted but Markets.com also provide local payment methods that are exclusive to certain territories. Please register and login to your account and visit the deposit page for a list of your personal deposit options. Alternatively, speak to the Markets.com support team and they will be happy to help. Markets.com offers accounts in USD, GBP and EUR. The minimum deposit amount for each is $/£/€100 and the leverage offered varies from the standard 50:1 up to 200:1.
Debit and Credit Card transactions will take approximately 24hrs to process and Wire Transfer deposits can take up to two business days to process. Markets.com do not charge any deposit fees however customers are encouraged to check with their bank or credit card issuer for complete transparency on all charges and transfer fees. It's worth noting that if a trader is looking to deposit more than $/£/€2,500, all transfer fees will be covered by Markets.com.
We recommend that you verify your account at the same time as opening it. You may do this by sending in the required identification documents, so have these documents handy upon registration. Once this is done, your trading account will be fully verified right from the start of your trading career and you will not experience delays when making withdrawals.
Why Trade Forex at Markets.com?
As with any Forex trading, Carriers Risk of Capital Loss, but Markets.com have an impressive range of trading platforms, multiple deposit options, a plethora of different trading tools, streaming real live market data and breaking news stories. They offer live training sessions for new traders and the tools and versatility required by more advanced traders. You can find an informative Economic Calendar here and they even offer Trading Signals. VIP traders can also enjoy the incorporated AutoChartist trading tool. This range of attractive features does make this broker stand out from the competition. It also welcomes traders of all levels and caters for all without compromise and with patience. They are truly one to try. They have met all our criteria and exceeded them in some cases. We recommend you try this broker for yourself.
Leave a comment