Who Uses E-Trade?
E-Trade prides itself on being the one-stop trading and banking resource for all types of traders, from the investing beginner to the high-rolling seasoned trader. For the beginner, E-Trade offers tons of educational tools and guidance. Its browser, desktop, and mobile platforms are all easy to navigate and customize.

For the experienced trader, E-Trade offers a trove of market research and advanced trading tools that could help save precious time and energy scouring the web and compiling tradable information. For retirement-minded investors, E-Trade offers online seminars and even robo-advising services. While its commissions for stock trades starting at $4.95 and option trades starting at $4.95 plus 50 cents per contract aren't the lowest in the game, E-Trade users can rest assured they are getting more out of their dollar than most discount brokers are offering.
As any trader with multiple accounts knows, one of E-Trade's biggest selling points is its comprehensive banking services.
"One of the cool things is that I could trade out of my 401k with them, use the bill pay system to take care of all my monthly bills, and I can even get a credit card and a checkbook linked to my brokerage account," one satisfied E-Trade customer said in a recent review. "If I have a great day in the market, I can celebrate with a nice dinner and charge the Credit Card."
E-Trade has something to offer every different kind of trader, even those just starting. But it's tiered commission structure and limited access to advanced tools certainly make it more comprehensive and cheaper platform for larger, more frequent traders.

E-Trade Commissions and Fees
E-Trade isn't necessarily expensive, but it's not the cheapest name in the game. The good news for traders with large portfolios and those that make frequent trades is that the platform's tiered commission structure can shave off precious dollars from those fees. Here's an overview of what traders will be paying to use the platform.
| Stocks | Fees |
| --- | --- |
| Less than 30 trades/quarter | $6.95 per trade |
| More than 30 trades/quarter | $4.95 per trade |
| Option Trades | Fees |
| Less than 30 trades/quarter | $6.95 + 75 cents per contract |
| More than 30 trades/quarter | $6.95 + 50 cents per contract |
| Commission-free Trades | Fees |
| Deposit of $10,000 or more | Trade free commissions for 60 days |
| Account Balance Minimum | Balance |
| Standard Account | $500 |
| IRA Accounts | $0 |
| Misc Fees | Fee |
| Transfer Out Fee | $75 |
E-Trade Tools
E-Trade's extensive list of trading tools is one of the highlights of the service. The E-Trade Web app offers traders free streaming market data, live market commentary, customizable screeners, analyst research and more.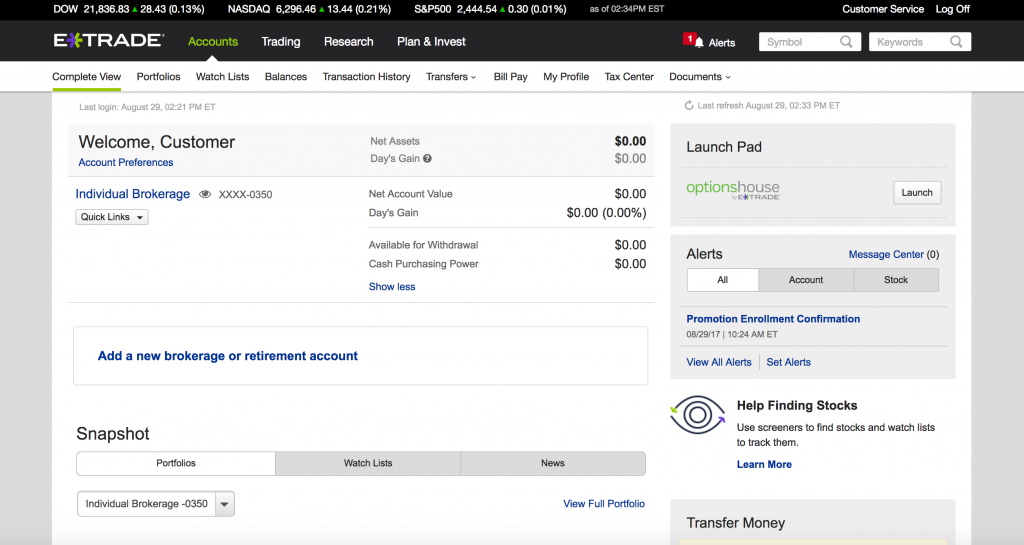 E-Trade's Free Mobile App
E-Trade's free mobile app may be its best selling point for traders on the go and is arguably the best mobile trading app out there today. The app's interface is simple and intuitive, yet it comes with all the trading tools most trader would ever need, including real-time quotes and charts, stock and ETF screeners, options chain filters, educational videos and CNBC Video on Demand.
E-Trade Pro Desktop
E-Trade Pro Desktop is the third platform the broker offers for its largest, most advanced and most active customers. E-Trade Pro is geared toward professional traders and it only available to customers with at least $250,000 in assets in their accounts or those that make at least 30 trades per. However, E-Trade Pro users get access to advanced features such as Strategy Scanner, which provides real-time screening and backtesting of predefined and custom trading strategies. E-Trade Pro also offers customizable charting and an advanced options screener as well.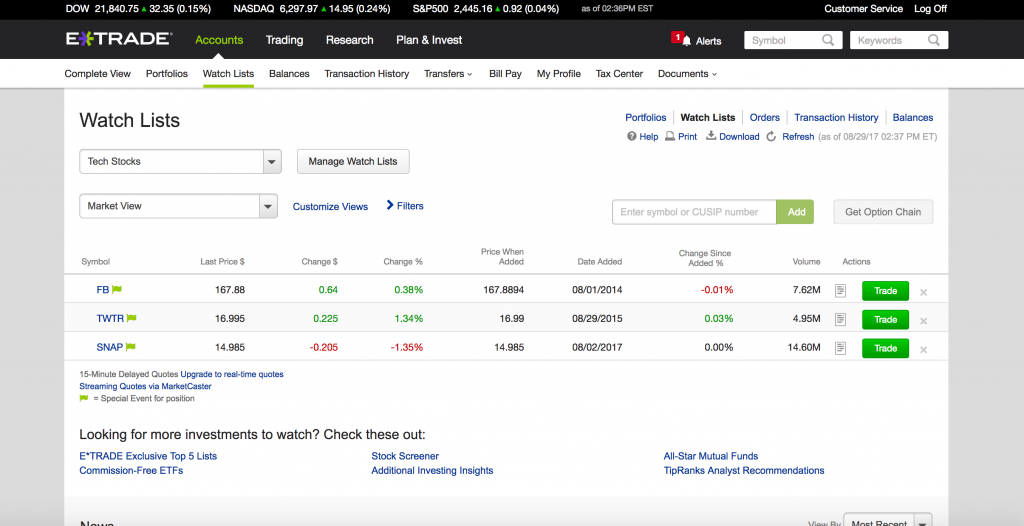 For more advanced traders who do not meet the qualifications for E-Trade Pro, E-Trade's newly-acquired OptionsHouse platform is a trading platform geared more toward the active, advanced trader. The platform offers real-time streaming quotes like E-Trade Pro does, but is free to use with all the same trading commissions as the standard E-Trade Web platform.
A customer service rep told me that the long-term plan is to have the OptionsHouse platform replace E-Trade Pro as the premium service, but for now, it is free for all E-Trade users.
For customers with at least $10,000 in their accounts (or $5,000 in IRAs), E-Trade also offers its E-Trade Adaptive Portfolio robo-advisor service, which comes with a management fee of only 0.3 percent.
E-Trade's My Virtual Advisor tool lets users get professional portfolio guidance from the comfort of their own home. Users can develop a customized retirement plan with My Virtual Advisor there to guide them online every step of the way.
Finally, E-Trade Bank consolidates all the financial services users could ever need all in one place. Customers can open a checking account, get an E-Trade credit card and even set up automated bill payments using E-Trade's banking services.
Research from E-Trade
E-Trade's research offerings are extensive. E-trade offers users fundamental market research reports for free from Credit Suisse, CFRA, and Thompson Reuters. In addition, users get technical research from MarketEdge, Mutual Fund and ETF research from Morningstar and bond research from Moody's. E-Trade users have access to consensus ratings from SmartConsensus and TipRanks and stock ad ETF-specific analysis from Trefis.
E-Trade Customer Support
E-Trade offers customer support via email, phone or live online chat 24/7. E-Trade offers dedicated phone lines for retirement advice, stock plans, and credit cards. E-Trade also has more than 30 branches where customers can go and get in-person assistance with their investing and banking needs. I personally used the online chat when researching for this story, and my questions were answered promptly and clearly by a friendly representative.
E-Trade & Its Ease of Use
E-Trade is a trader's dream when it comes to using an intuitive, customizable platform with all the features an advanced trader could ever need and all the educational resources and guidance a new trader could ever want. From online seminars for new traders to the My Virtual Advisor retirement planning tool, E-Trade will help traders invest their money competently and confidently every step of the way. E-Trade's mobile app may be the best all-around trading app available, and E-Trade banking services help integrate trading accounts, checking accounts, bill payment, money transfers and other services all into one convenient destination.
Asset Classes Offered at E-Trade
E-Trade offers all the standard asset classes that most traders are looking for, as well as a few advanced asset classes that may not be offered at other brokerages:
Stocks
Bonds
Mutual funds (including commission-free choices)
ETFs (including commission-free choices)
Options
Futures
For a complete list of brokers and the asset classes that they offer, visit our compare page.
Final Thoughts on E-Trade
You Should Go with E-Trade if:
Higher fees are of no concern to you
You want to make use of premium reputable tools
You want access to 24/7 customer support
You plan on trading more than just standard asset classes
E-Trade has something to offer every single trader out there. Advanced, active traders can enjoy access to E-Trade Pro's premium tools and lower commission fees. Beginners can enjoy the intuitive, customizable web and mobile platforms, the educational materials, the 24/7 customer support options, and the My Virtual Advisor retirement-planning tool.
You Should Avoid E-Trade if:
Your main concern is lower fees
The only potential downside to E-Trade is that it's not the cheapest game in town, especially for traders who don't meet the account balance requirements or the minimum trade requirements to qualify for the lower tier of commission fees. However, paying a bit more for access to an extensive list of research sources, trading tools, expert commentary, banking services and a top-tier mobile trading app is certainly a worthwhile investment for most traders.
Leave a comment